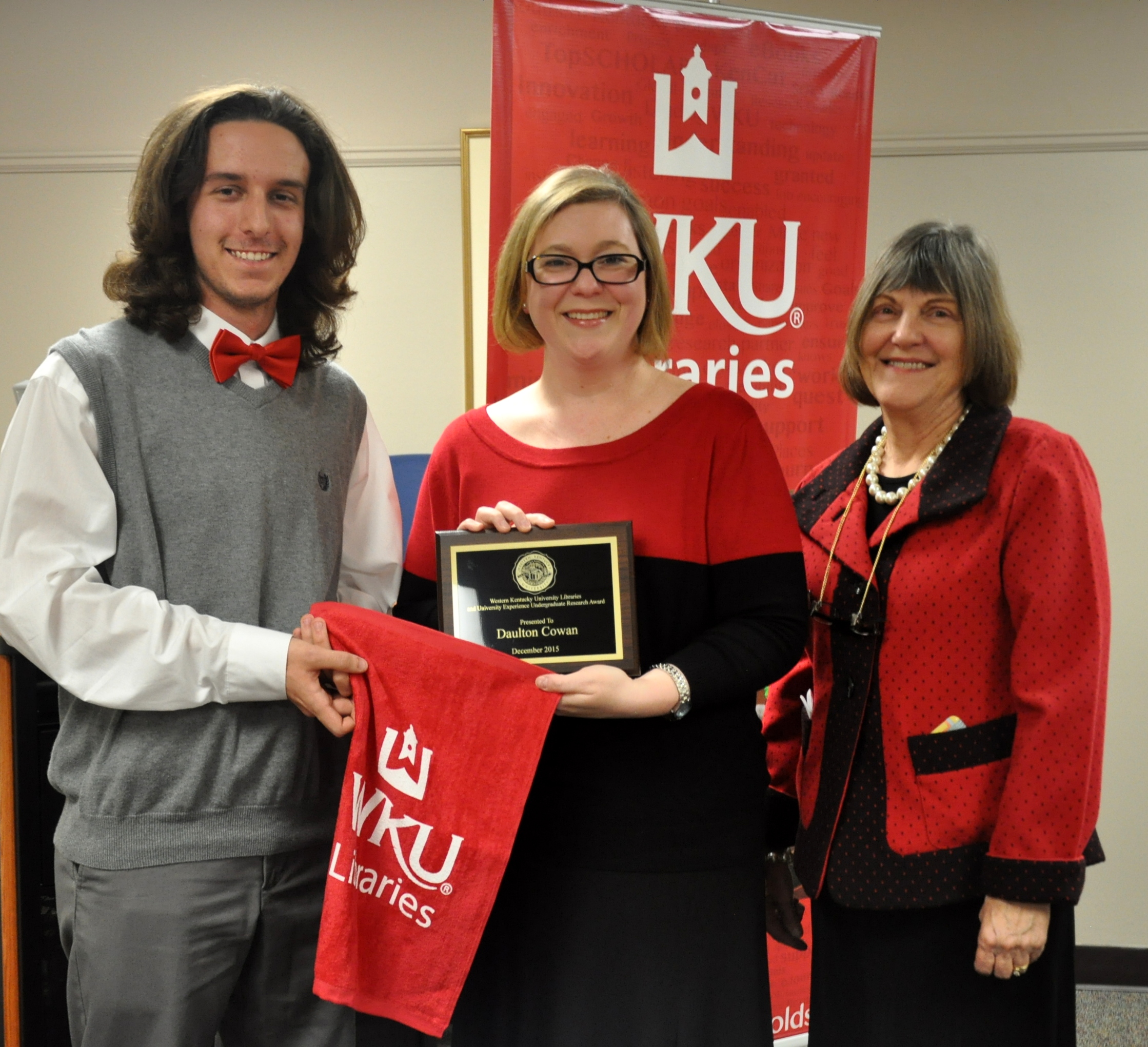 Western Kentucky University undergraduate students Daulton Cowan, Maggie Flanagan, and Jefferson Sanders were honored for winning undergraduate research awards at a recognition ceremony in Cravens Library on Monday, November 30.  WKU Libraries and WKU University Experience faculty offer the awards in an effort to recognize the important role of good undergraduate research in college academic success.
"Information literacy and library skills are essential for student success at any level, and I am happy to be a part of introducing the importance of college-level research skills to our first year students," said Sara McCaslin, University Experience Coordinator.
Cowan, a first-year student from Bowling Green, Kentucky, received the award for his annotated resource list project for the University Experience class on the main campus. His work featured the TED Talk "How to Start a Movement" by Derek Sivers. His instructor was Aaron Peters.
Flanagan, a first-year student from Russell Springs, Kentucky, received the award for best annotated resource list in a major-specific area. Representing the College of Health and Human Services, her project featured her area of interest titled "Nursing: The Career that Saves Lives." Her instructor was Marsha Hopper.
Sanders, a first-year student from Nashville, Tennessee, representing student essays of the South Campus University Experience class, was recognized for the best career essay titled, "Sports Broadcasting News Analyst."  His instructor was Dr. Anne Heintzman.
Students received a monetary gift along with a plaque honoring their achievements. The winning documents, along with those of past recipients, are posted on TopSCHOLAR–WKU's research and creative database—at digitalcommons.wku.edu/ueul_award/.