On the evening of September 14 at Barnes & Noble Books, Bowling Green, KY, WKU Libraries featured Fred Minnick in its Kentucky Live! speaker series as part of its community outreach initiatives. Fred Minnick is the "Bourbon Authority" for the Kentucky Derby Museum. He talked about his newly published book Bourbon: The Rise, Fall and Rebirth of An American Whiskey and signed it at the conclusion of his talk.
Photo Album | Sound File | Podcast RSS
Fred Minnick is the "Bourbon Authority" for the Kentucky Derby Museum.  Since October, 2013 he has taught bourbon classes at the Museum and hosted private bourbon tastings for convention groups.  In 2014-15 Louisville.com named his popular "Legend's Series of Bourbon Tasting" as one of the top events in Bourbon County.
He's been writing since he was a teenager and published his first story in the Oklahoma County News at age 15.  He's written about sports for the Daily Oklahoman, about forests, served a military photographer in the Iraq war and worked as a restaurant trade editor.  After the Iraq War he moved to Kentucky to marry the love of his life and the rest as they assay is history.
He's been writing about bourbon and spirits for more than a decade and is the author of six books including the widely acclaimed Bourbon: The Rise, Fall and Rebirth of An American Whiskey published by Quarto Publishing which Smithsonian Magazine named as one of the "Best Books About Food of 2016."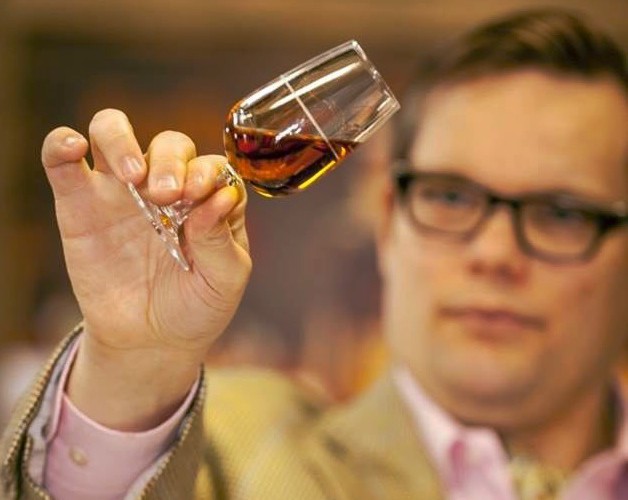 His other notable books on spirits include:  Whiskey Women: The Untold Story How Women Saved Bourbon, Scotch, and Irish Whiskey published by Potomac Books in 2013; Bourbon Curious: A Simple Guide for the Savvy Drinker published by Zenith Press in 2015; and hot off the press Rum Curious: The Indispensable Tasting Guide to the World's Spirit published this summer by Voyageur Press an imprint of the Quarto Publishing Group.  Complete with a history of the industry, rules and regulations, guides to aged, flavored and unaged rums, cocktails, notes about distilleries and a bibliography, this lavishly illustrated book will have broad appeal for foodies, bartenders, mixologists and just about everyone else.
Fred serves as a judge for the San Francisco World Spirits Competition and the world whiskies Award and has judged numerous cocktail contests including the national competitions fro Old Forrester, Four Roses and Citadelle Gin.
When not writing or judging Fred serves as Chairman of the Brain Injury Alliance of Kentucky Ball and frequently donates tastings, books and photography to Bourbon & Bowties, the Make-A-Wish Foundation and many others.
We hope you'll join us to hear Fred discuss the history and inside stories about Kentucky's legendary beverage as part of our Kentucky Live series, Thursday, September 14 at 7 p.m. at Barnes & Noble Books.  A book signing will follow.