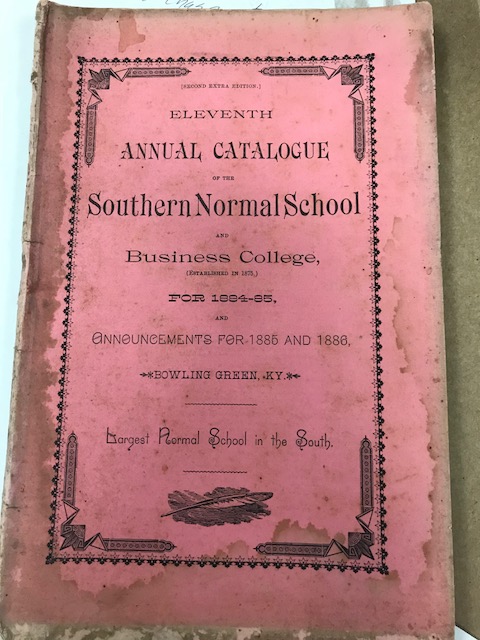 WKU Archives' newest acquisition is this 1884-85 catalog for the Southern Normal School & Business College.  The front cover looks a bit waterlogged, but the interior is in excellent condition.
The Southern Normal School was created when A.W. Mell and Tom Williams left the Glasgow Normal School and moved to Bowling Green. It was originally called the Southern Normal School & Business College, but in the 1886 charter the name was changed to Southern Normal School. From 1890-1892 the school went through a succession of management changes being overseen by H.A. Evans, W.J. Davis, J.R. Alexander and H. McD. Fletcher.  It came into the hands of Henry Cherry and his brother Thomas in 1892 with yet another name change.
On November 16, 1899 the school was destroyed by fire.  Because of this, WKU Archives has very little in the way of records from the school.  This 68 page catalog covers such topics as the history of the school, expenses, literary societies, hints, social features, directory of teachers and directory of alumni.
Courses offered by the Southern Normal School included the following disciplines:
Preparatory Course – mathematics, science, literature, debate, elocution, voice
Teachers' Course – mathematics, science, literature, elocution, spelling, penmanship, drawing
Engineering Course – surveying, railroads, bridges, science, French, German, penmanship, drawing
Commercial Course – merchandising, banking, steamboating, real estate, railroads, consignments, commercial law
Short-Hand & Type-Writing
School of Telegraphy
School of Penmanship
Scientific Course – chemistry, physics, physiology, geology, botany, geometry, trigonometry, astronomy, calculus, classical languages, debate, parliamentary practice
Classic Course – classical literature, mythology, political economy, elocution, lectures, parliamentary practice
Elocution Course – bearing of body, gymnastics, gesture, dramatic attitudes, speaking voice, conversation, literature, debating, public entertainments
School of Music – piano, organ, violin, flute, voice, orchestra
Art Department – oils, water colors, crayon, pastel, china, textile fabrics, perspective, free-hand drawing
Special Course – Latin, Greek, English, Modern Languages, Music
The catalog also announces a new feature, the Female College Department wherein women were taught in a separate building from men in daily sessions from 8:30 AM to 2:30 PM. The owners of the school "believe and advocate that the highest results are obtained from the co-education of the sexes, but we find this provision a great convenience to those who live or board some distance from the college. . . .   The establishment of this department enables us to provide for all, and parents sending their daughters can enter them in this special department, or the main school, as they may desire."
In 1899 the Southern Educational Building Company was incorporated with a purpose "to promote and advance education by providing essential buildings, including dormitories." [Harrison, Western Kentucky University, p. 10] After the 1899 fire Henry Cherry rented rooms and opened the school for business the next day. A new building was constructed by 1901.
The school remained in operation as Southern Normal School until the state legislature established the Western Kentucky State Normal School in 1906.
Follow these links for additional information:
Please contact WKU Archives if you have Southern Normal School materials or photographs you are willing to donate.