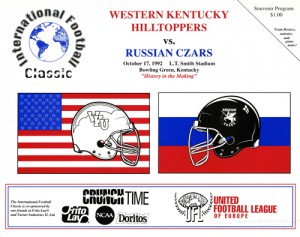 Every day is something a bit different than the day before in WKU Archives.  I may find myself processing photographs, blueprints or president's papers.  October 2nd was definitely a reference day.
Request 1 – WKU maternity leave policies, when were they first instituted and how have they changed over time.  After a couple false starts in the Board of Regents and University Senate records, information was found in the faculty/staff handbooks created by Human Resources.
Request 2 – Topographic maps of WKU campus. Unfortunately we do not have any in WKU Archives.  It may be that none have been created.
Request 3 – WKU vs Russian football team, all information available.  Film footage was pulled and transferred from tape to dvd.  The poster above was digitized for the researcher as well.
Request 4 – Information and photos of the Rock House for an upcoming exhibit.  A search of KenCat revealed that there is a single photograph, 3 floor plans and Rock House Reunion records created by alumni who once used the building as a dormitory.  Records were pulled for the researcher to use.  The photograph and floor plans were digitized for inclusion in the exhibit.
Request 5 – Photographs to be used in celebration of Gary Ransdell's 15th anniversary as WKU president.  Luckily the request included a list of events the researcher wanted images of.  A search of KenCat found most of them quickly.  These were forwarded to the researcher to make selections.  Then I went through unprocessed photographs and pulled relevant images for digitization.  Records for these images were created in  KenCat and thumbnails attached.  Now they are available to all researchers.
Request 6 – A request was made for a copy of a SITE committee report.  The researcher had already checked the Board of Regents and University Senate records online.  A search was made of the President's Office papers and some University Senate records that have not been digitized.  The report was not found and in talking with the researcher, it was decided that it probably never existed.
Research can be quite time consuming.  WKU Library Special Collections & Kentucky Museum Research Strategies is available to help researchers use the online resources before making a trip to the Kentucky Building.  Processing and digitization of WKU Archives collections is user driven.  All requests are answered in the order received.  We are working daily to process additional records, add entries to the database and make more records available more quickly to our patrons.