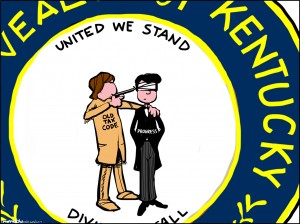 Courier-Journal editorial cartoonist Marc Murphy from Louisville, Kentucky will be speaking at Barnes & Noble on Thursday, October 10 as part of WKU Libraries' Kentucky Live! lecture series. Murphy's cartoons are nationally distributed and are published five times per week in the Courier-Journal.
Murphy's works are now online in digital animation through the work of Digital Graphic Artist Chris Feldmann at the Courier-Journal. Murphy describes Feldman's process as taking his art and "combining Steven Spielberg and Walt Disney." Murphy says, "if you liked today's cartoon, or more particularly…if you absolutely hated it, if you want to hate it even more, go to the Courier-Journal website and see it in all its animated glory."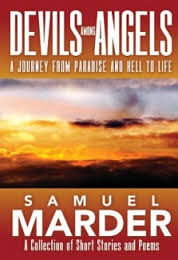 Samuel Marder, professional violinist and Holocaust survivor, will be speaking at Barnes & Noble on Thursday, October 17, on his recent book Devils among Angels: A Journey from Paradise and Hell to Life.
Devils among Angels is a collection of short stories and poems inspired by memories of Marder's childhood years before, during, and after World War II and the Holocaust. He uses prose and poetry in both fiction and non-fiction to reflect on good and evil in the past and present.
Distinguished Professor of History Lisa Rosner, Ph.D., from Stockton College, writes about Marder's book. "This is a transformative book in so many ways," says Rosner. "Sam Marder takes the harrowing images of his childhood, shattered by the Nazis, and his experiences in concentration and refugee camps, and transforms them into stories, poems, and music. The reader is transformed by Marder's striking images of angels and devils at work in human lives—and his calm reassurance of the ultimate victory of the angels. This book is required reading for anyone interested in the resilience of children, and creative genius, in the face of the Holocaust."
Both programs will be held at 7 pm at Barnes & Noble Booksellers on Campbell Lane in Bowling Green, Kentucky. These are free events for anyone in the community. For more information, go to wku.edu/library.