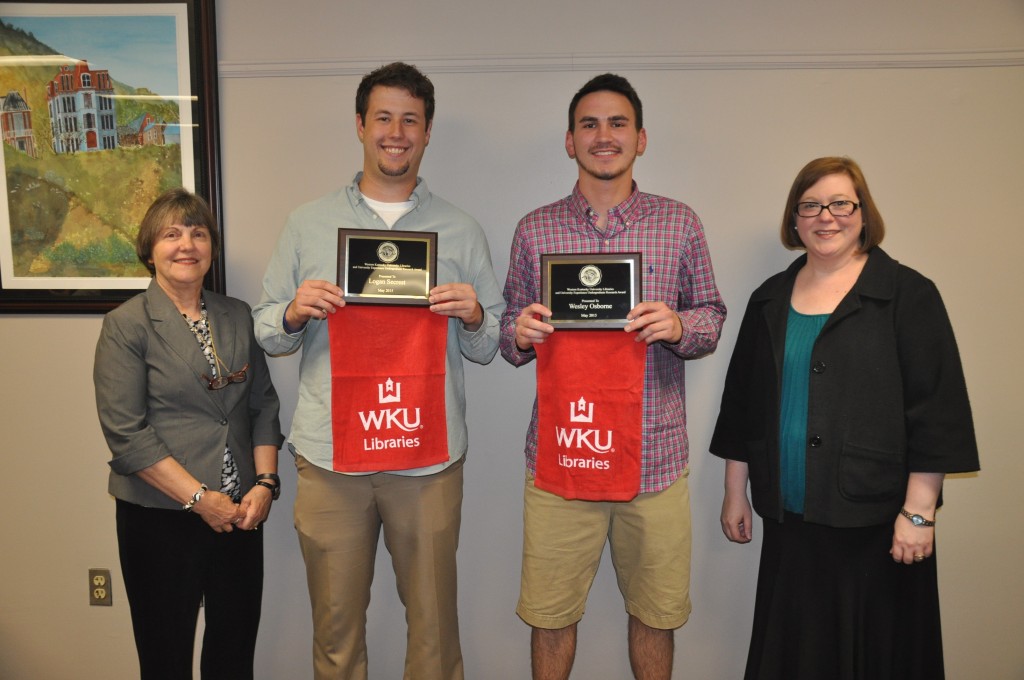 Western Kentucky University students Logan Secrest (Buffalo, Ohio) and Wesley Osborne (Owensboro, Kentucky) received undergraduate research awards at a recognition ceremony in Cravens Library on Monday May 4, 2015.  WKU Libraries and WKU University Experience faculty offer the awards in an effort to recognize the important role of good undergraduate research in college academic success.
"We look forward to honoring students for these research awards each semester," said Sara McCaslin, University Experience Coordinator. "It's a pleasure to spotlight students who have shown exceptional information literacy and research skills through their class projects. This critical skills set will aid them throughout their college careers as well as in life."
Secrest is finishing his first year at WKU, transferring from the University of Great Falls in Great Falls, Montana. He received his award for his annotated bibliography on a Ted Talk analysis with Shawn Achor's The happy secret to better work.  His instructor was Cort Basham from the main campus University Experience class.
Osborne, a first-year student interested in Technology Management, received his award for the best career essay titled "Industrial Production Management." His instructor was Anne Heintzman from the South Campus University Experience class.
Students received a monetary gift along with a plaque honoring their achievements. The winning documents, along with those of past recipients, are posted on TopSCHOLAR–WKU's research and creative database—at digitalcommons.wku.edu/ueul_award/. For more information, contact Amanda Drost, chair of awards committee, at 270-745-2962.