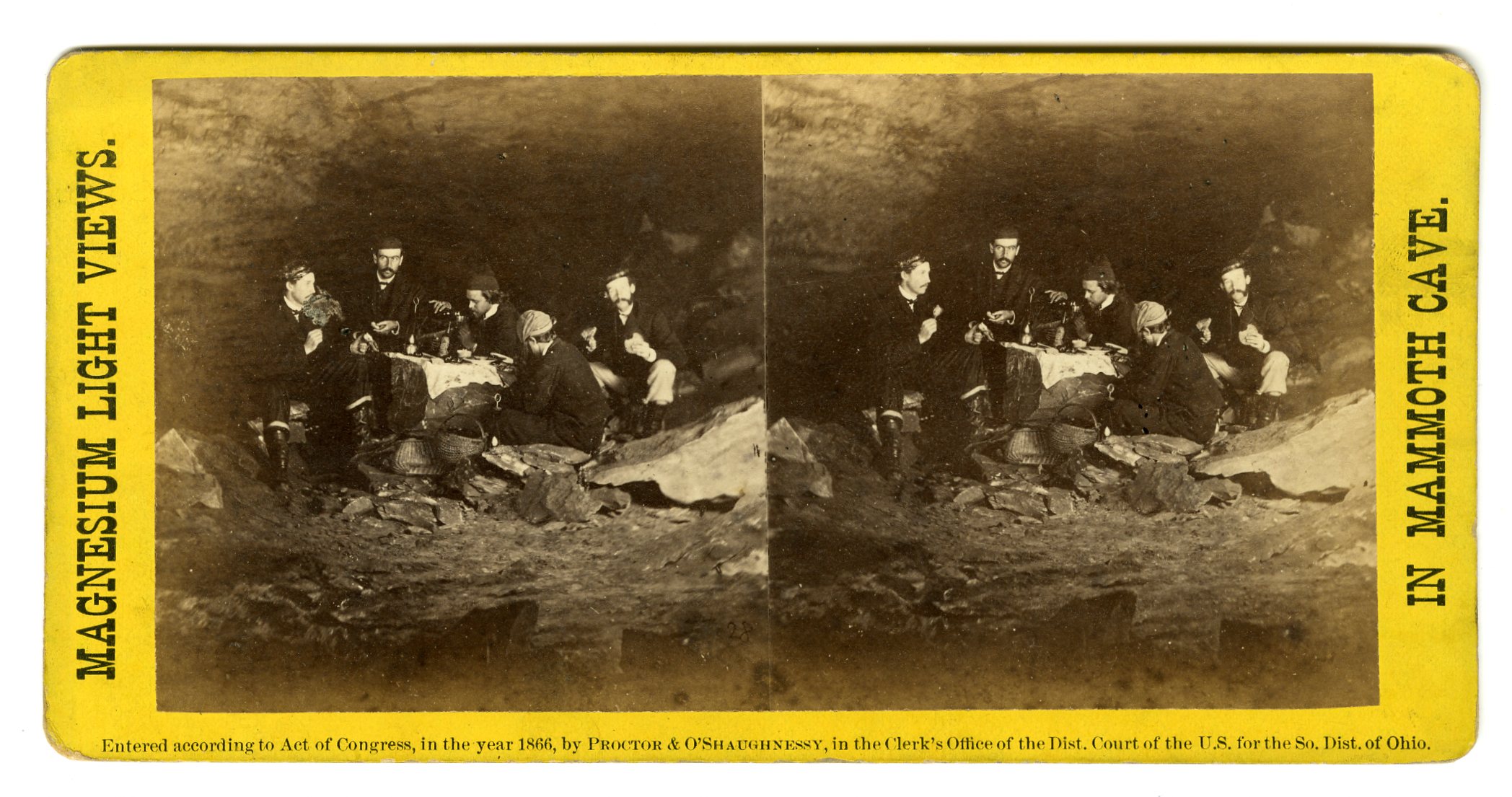 The Department of Library Special Collections at WKU recently acquired a complete set of Charles L. Waldack's 1866 stereoviews of Mammoth Cave. The collection of 42  stereoviews are magnesium light views about Mammoth Cave, and include scenes of the Hotel, guests, the African American cave guides, and many interior shots of cave formations. Stereoviews, also known as stereoscopic photographs or stereographs, were introduced in the early 19th century for viewing two almost identical images through a stereoscope to offer a 3D illusion.
Originally from Belgium, Waldack came to the United States in 1857, and is the first photographer of the cave. Waldack was noted for bringing "sunlight" to the interior of the cave by the use of magnesium to create images of the cave and the surrounding area.  The 42 views of Mammoth Cave were published by E. & H.T. Anthony & Co.
According to the Journal of Speleological History, "These were the first high quality photographs produced underground in any cave." Waldack had a photography shop at 31West 3rd Street in Cincinnati and made many excellent views between 1857 and 1873. His most significant were his 42 stereoviews of Mammoth Cave. Twelve of his photographs were printed as engravings in the 1870 book A Historical and Descriptive Narrative of the Mammoth Cave of Kentucky by William S. Forwood.
"WKU has long been a premier research institution for speleology and karst studies, and we have a particular interest and emphasis on Mammoth Cave due to its proximity and its long history as a tourist destination," said Jonathan Jeffrey, Department head for WKU's Library Special Collections.  "The Waldack stereograph collection is a major and unique acquisition for WKU; we are thrilled to make them available to our researchers."
These stereoviews can be seen by visiting http://www.wku.edu/library/dlsc/index.php or by viewing it on the KenCat collection at http://wku.pastperfect-online.com/35749cgi/mweb.exe?request=keyword;keyword=waldack;dtype=d