Dr. Scott Lyons and Ann Epperson are the inaugural inductees into the WKU Libraries Open Access Hall of Fame. "We want to acknowledge both faculty and students who have enhanced the works in TopSCHOLAR®, the Research and Creative Activity Database of WKU," said Deana Groves, Department Head of Library Technical Services at WKU. "Dr. Lyons' and Ann Epperson's scholarly achievements have drawn thousands of researchers from around the world with downloads through this quality open access platform."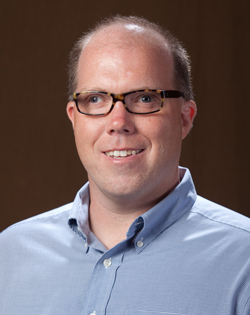 Dr. Scott Lyons, director of WKU School of Kinesiology, Recreation, & Sport, has exemplified the spirit of Open Access through his founding and editorship of the International Journal of Exercise Science (IJES), which debuted on TopSCHOLAR® in 2007. With over 345,000 downloads, this quarterly journal is dedicated to the dissemination of undergraduate and graduate research in the areas of Exercise Science, Exercise Physiology, Human Performance, Kinesiology, and related disciplines. It benefits not only WKU student researchers by providing a peer-reviewed journal, but is discoverable globally through the TopSCHOLAR® platform. Dr. Lyons completed his Ph.D. in Exercise Physiology from the University of Alabama in 2003 and joined the faculty of WKU in 2004.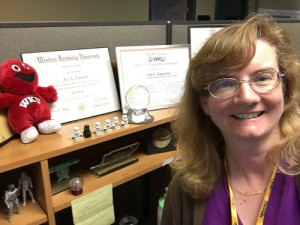 Ann Epperson is being honored in the Student Research category for her thesis Internet GIS as a Historic Place-Making Tool for Mammoth Cave National Park. Her advisors were Dr. Katie Algeo, Dr. Jun Yan, Dr. Fred Siewers and Dr. Kevin Cary. This project laid the groundwork for an Internet-delivered Public Participation Geographic Information System to facilitate exploration and discovery of the past communities of the Mammoth Cave Park area. Epperson's thesis was completed in fulfillment of requirements for a Master of Science degree in Geography and Geology in December 2010. It has been downloaded nearly 15,000 times since it was posted to TopSCHOLAR®.
The inaugural Hall of Fame inductees will be honored at a reception on Thursday, October 22 in Helm Library, Room 100 at 2pm. Everyone is invited to attend. For more information about TopSCHOLAR® go to http://digitalcommons.wku.edu/