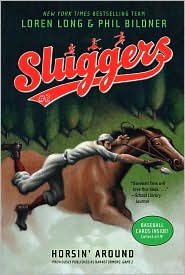 Western Kentucky University Libraries has selected Sluggers #2: Horsin' Around by New York Times bestselling writing team Loren Long and Phil Bildner as the winners of the third Evelyn Thurman Young Readers Book Award. The national award was created to honor the memory of former WKU librarian, Evelyn Thurman, who made significant contributions to children's librarianship and literacy during her 25 years of service to the university and community. Books eligible for the award must be written or illustrated by a Kentucky related author or illustrator or have a significant Kentucky related connection. Long, who is the illustrator for the book, was raised in Lexington, KY and graduated with a BA in Graphic Design/Art Studio from University of Kentucky.
Sluggers #2: Horsin' Around is the second in a series of books about a baseball team, known as the Travelin' Nine, that travels the country playing baseball and solving mysteries. According to Sean Kinder, chair of the selection committee, the committee was particularly impressed with the book for several reasons. "Sluggers #2: Horsin' Around engages readers with its exciting plot, historical accuracy, excellent character development, and unique visual and graphic elements, all of which combine to make a compelling and satisfying reading experience," said Kinder.
The author and illustrator have been invited to attend an awards luncheon in their honor at the Kentucky Library & Museum in November. Each will receive a monetary award and commemorative plaque. During their recognition visit, Long and Bildner will also visit local schools as a finale for the Southern Kentucky Book Fest partners' weeklong Fall into Books program, which brings noted authors to area schools and also provides free books by the visiting authors to children. To learn more about the winning novel, go to www.lorenlong.com/barnstormers/barnstormers2.html. For more information about the award, visit www.wku.edu/library/thurman/.