WKU Libraries hosted Michael A. Peake for the presentation of his new book Blood Shed in This War on October 11 at Barnes & Noble Booksellers, Bowling Green, KY.
Photo Album | Audio | Podcast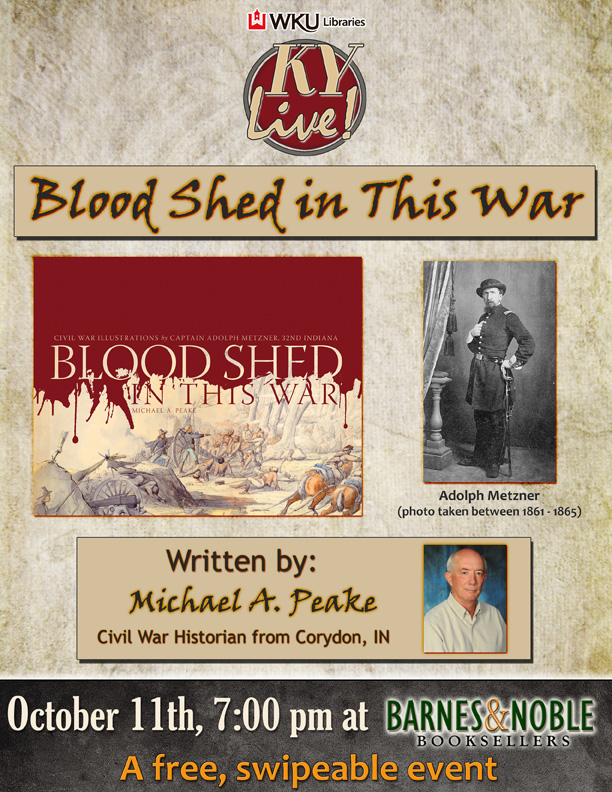 On October 11 at 7:00 pm at Barnes & Noble Booksellers, WKU Library will host Michael A. Peake for the presentation of his new book "Blood Shed in This War."   Mr. Peake, a Louisville native, has Kentucky ancestral roots going back to the 1780s in the Nelson and Marion County regions.  For over 14 years he has researched the German 32nd Indiana Regiment, and since his retirement from the Federal Service in 1996, has devoted much of his time compiling the history of the regiment, and the Germans of both armies in the Civil War.  This presentation will provide an overview of German participation in the Civil War with the First German, 32nd Regiment Indiana Volunteer Infantry as the prime example of the more than 50 German infantry regiments that served the Union during the war.  It will also include original war period artwork created by regiment officer Captain Adolph G. Metzner  who created a notable collection of over 120 sketches, drawings, and paintings during his service period with the 32nd Indiana in the Western Theater from August 1861 through September 1864.  The general public has viewed only a small portion of the art collection, and very little of this significant historical Civil War artwork has been published.
Please join us! 
This is a free swipeable event.