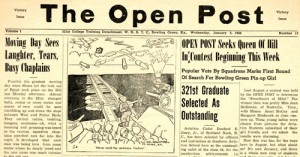 1917 saw the creation of the Army ROTC program at Western under the National Defense Act of 1916.  In 1918, the Board of Regents allowed for the formation of the Student's Army Training Corps.  Barracks were provided for participating students.  In January 1919, this group became the Reserve Officers' Training Corps.
During World War II the 321st Army Air Force Cadet Training Detachment took up residence on campus. From 1943 through 1944 the group published a newsletter The Open Post, which has been digitized and is now available TopScholar.
A Military Bibliography of primary and secondary sources in WKU Archives has been created.  It documents WKU student military units such as the Pershing Rifles and Scabbard & Blade.  There is information regarding veterans, World War II, Vietnam and the Persian Gulf War as well.