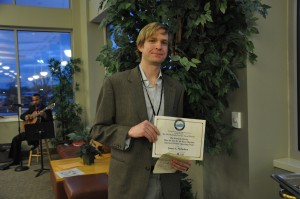 Bowling Green, Ky. –Southern Kentucky Book Fest partners announced Dr. James Nicholson as the winner of this year's Kentucky Literary Award for his book The Kentucky Derby: How the Run for the Roses Became American's Premier Sporting Event. First awarded in 2003 and reintroduced last year after a brief hiatus, the Kentucky Literary Award is given to an author from Kentucky or one whose book has a strong Kentucky theme. Fiction and non-fiction books are recognized in alternating years.
     James Nicholson, a native of Lexington, attended his first Kentucky Derby at the age of 17. He grew up on one of Kentucky's most famous horse farms, Jonabell, which was founded by his grandfather John A. Bell III in 1954 and sold to Sheik Mohammed Bin Rashid al-Maktoum of Dubai in 2001. Dr. Nicholson received a BA, MA, JD and PhD in history at the University of Kentucky (UK). In addition to writing, he teaches American History at UK, practices law, and plays in a rock and roll band.
     Published in 2012 by the University Press of Kentucky, The Kentucky Derby: How the Run For the Roses Became America's Premier Sporting Event is Nicholson's first book. Detailing the history of the Derby from its beginning in 1875, the book examines how and why the famous race has withstood the cultural changes of so many years and endures as the most exciting two minutes in sports.
     The award announcement was made at the Knicely Conference Center at an authors' reception on Friday, April 19–the night before the main Book Fest event. Nicholson was recognized with a commemorative certificate and a monetary gift.
     The Southern Kentucky Book Fest partners include Barnes & Noble Booksellers, Warren County Public Library, and the Western Kentucky University Libraries. For more information about SOKY Book Fest, go to sokybookfest.org.