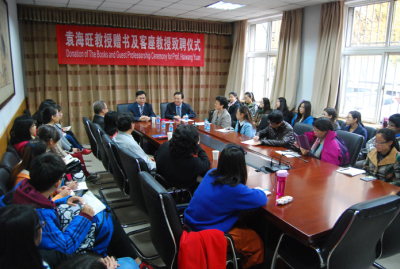 Professor Haiwang Yuan of WKU Libraries was recognized last month at his alma mater Nankai University in Tianjin, China for his contributions to the academic development of the College of Foreign Languages (CFL). On October 22, the College of Foreign Language held a Book Donation and Guest Professorship Ceremony for Yuan with Dean of the Foreign Language College Yan Guodong presiding, along with several professors and graduate students from the English Department at the University. Dean Yan Guodong presented the Guest Professorship Letter of Appointment to Yuan and received the books donated by Yuan to the CFL.
"It was an honor to be recognized by one of most prestigious universities in China," said Yuan. "I am thrilled that I was invited back to the place where I first taught English 30 years ago."
Yuan thanked his alma mater and gave a presentation on English writing and answered questions. Yuan was a 1977 undergraduate of the College of Foreign Languages Department of Nankai University. Upon his graduation, he taught at the department until 1988. He attended Indiana University and received his Master degrees of History and of Library and Information Science in 1990 and 1995. Professor Yuan has published several monographs and translated works, as well as dozens of research articles. The monographs include The Magic Lotus Lantern and Other Tales from the Han Chinese, Princess Peacock: Tales of Other Peoples of China, Tibetan Folktales, and This is China: The First 5,000 Years.